Contract/Temporary Staffing
We understand the importance of placing the right people, on the right projects, both short and long term. We ensure that your company gets access to the best possible technology candidates, while matching our job seekers with the best possible opportunities for their background and skill-set. Many of our contract / temporary placements work out so well, our clients hire them directly through our highly utilized "temp-to-perm" program.
Direct Hire/Permanent Placement
Companies that are growing or augmenting their staff need a resource they can trust and rely on to identify, screen, and ultimately fill their open positions with top tier talent. Candidates need a partner that takes the time to understand their background, strengths and where they want to be in terms of their next career move. We are confident in our ability to find you the right candidate, and we guarantee our work.
Executive Search
When an organization enters into a search for someone in a key leadership position, it is imperative that the search firm they engage has a thorough understanding of the company and what type of candidate they need. Our team will take the time to truly understand your critical needs and requirements, and most importantly, your "ideal fit". We have many years of experience supporting our clients, and our recruiters go "the extra mile" to ensure that the best possible match is made.
Personal Focus
Our primary focus is on providing the best possible service to each candidate and client that we work with. At Summit Staffing Partners, we take the time to understand your staffing needs, so we can make the best possible match. Here at Summit Staffing Partners, we pride ourselves on providing world class customer service, giving our clients access to outstanding technology talent, while providing our candidates with opportunities that they may not be able to find elsewhere.
Unmatched Quality
For each search, we reach out to our exclusive network of candidates to ensure the best possible outcome for our clients. We believe strongly that our people drive our success, and by extension, yours as well. We utilize our many years of combined staffing and recruitment skills, industry knowledge and personalized approach to offer customized recruitment solutions in areas such as banking and finance, healthcare, edtech, government, non profit, and many other sectors.
The Right People
At Summit Staffing Partners, we know that finding a great match for your open positions is not always easy. Our NYC based staffing and recruitment team will partner with you, to ensure that the candidate you select has the technical skills and personality traits which will best fit into your organization. We put a heavy emphasis on "quality over quantity" into all of our highly customized searches which are specifically tailored to your organization and your unique staffing needs. Our goal at Summit Staffing Partners is to ensure that your company gets access to the best possible candidates, so your organization can be more productive.
What Our Customers Are Saying About Us
Brad Sona and Summit Staffing Partners found me a great new job, and I am thankful for all of the hard work that Brad and his team put in to make my career a top priority. Thank you!
The team at Summit Staffing is nothing short of outstanding. When we were in a pinch, they came through with four outstanding candidates for our "last minute" IT positions that we needed help with immediately. We have enjoyed working with you.
In the past, I had found jobs on my own, and this was the first time I have ever worked with a recruiting agency. Brad, Bill and Noah far exceeded my expectations. They helped me land and interview with a top notch company, and helped guide me through the process of securing the position every step of the way. I really appreciate all of their hard work and dedication.
We only utilize IT recruiters for our most difficult positions, and Bill and Brad helped us find the perfect match for an extremely difficult role that we had. We have enjoyed working with Summit Partners and we will surely be reaching out again in the future.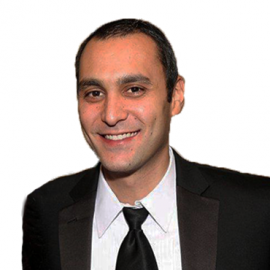 Bradley Sona is the President and Co-founder of Summit Staffing Partners and our Head of IT Recruitment. As a staffing industry specialist, with over 14 years of work experience in technology staffing, recruitment and market research, Brad has worked on and contributed to staffing and recruitment initiatives for some of the world's most prestigious institutions, ranging from large scale Fortune 500 companies and asset managers, to nonprofits and healthcare companies. Having provided high level IT, as well as non-technology related recruitment for companies and organizations for many years, Brad prides himself on making the "right match" for both his clients and candidates and ensuring that he and his team provide the highest levels of customer service in the staffing industry. Bradley is a graduate of the Roy H. Park School of Communications at Ithaca College and is an avid sports fan, who loves baseball and basketball. He also enjoys spending time with family, including his wife Melissa, his son Jordan and his daughter Samantha.
Rich Kopac is a Senior Director at Summit Staffing Partners, bringing 14 years of technology and sales experience to the team.  In addition to client relationship management, Rich is running a full-desk team, focusing on both revenue generation and candidate search initiatives.  Having worked in a wide range of business scenarios, from smaller start-ups to larger Fortune 500 companies, Rich offers a well-rounded, collaborative approach to business operations and development.  Rich prides himself on taking a consultative and customer-oriented approach to make sure client and candidate needs are met in each and every situation.  Rich earned his degree in Organizational Communication, Learning and Design from the Roy H. Park School of Communications at Ithaca College in 2001.  He is a passionate sports fan and enjoys photography, golfing, outdoor activities and traveling with friends and family.
Robert Brown is a Partner with Summit Staffing Partners.  In addition, Robert is the President of the RB Group. Prior to working to launch Summit Staffing Partners, Robert was President of Nova Group. Nova Group is a market leader in contract manufacturing and fulfillment services for the Nutraceutical industry. Before joining Nova Group, he was one of the founders and CEO of East-West Staffing, a national staffing company. His previous experiences include being one of the owners of Snelling Personnel Services, NJ, NY and PA Franchise Group. Robert currently serves on the Rutgers Business School Advisory Board, and is a Board Member of Embrace Kids Foundation,  a non-profit charity supporting children suffering from cancer and blood disorders. Robert received a Bachelor of Arts degree in Economics from Oberlin College, and a Master in Business Administration from Rutgers University.
In November, Our President Bradley Sona appeared on Career Talk with Dr. Dawn Graham, which originally appeared on SiriusXM Business Radio, Powered by the Wharton School on Thursday, November 30th…
In January 2018, our wonderful team from Summit Partners took our annual trip to the Borgata in Atlantic City. Everyone had a fantastic time!
Written By: Bradley Sona – Summit Staffing Partners
Over my years in IT recruiting, I have reviewed tens of thousands of resumes, and one thing that a large portion of the resumes that I review…